Oshima Hot Air-Drying Machine RE Series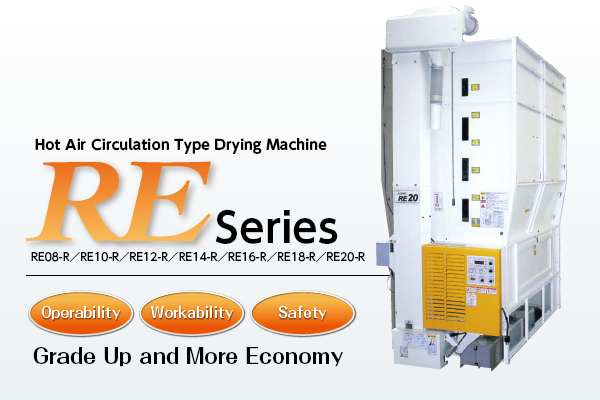 Dryable from the lowest combine bags (5 bags)
| | |
| --- | --- |
| | It is safe even if rain falls in the middle of reaping and work cannot be continued. It can be dried from just a little of 150 kg (5 bags as combine bag 30 kg). The minimum amount of drying in this class is OK. (All models) |
Wide Opening
| | |
| --- | --- |
| Wide horizontal hopper as standard equipment. Easy work because the opening is wide. Depending on the setup location, it can be installed on left or right side. (All models) | |
You can handle the residues in saving space.
| | |
| --- | --- |
| | The residues can be processed even if there is no space in front of the drying machine. |
Bigger and Easier to see Controller
| | |
| --- | --- |
| Using latest " Dial Type Controller" in RE series. Characters, display etc. became bigger, so it is easy to see and operation is easy. After that, the dial operation and pressing the button will be followed by. | |
Perfect Option
Increased framework.
We can respond flexibly to changing work environment by using incremental frame method.
(Cannot increase the frame between RE 08 and RE 12.)
Front Hopper
It can be used when you cannot put in from the side.
Granular dust collector
Remove trash and dust during granulation.

Exhaust thrower
It is convenient when ejecting too far.
(Not available with 100 V power supply)