Oshima Jet Type Hulling Machine PMJ2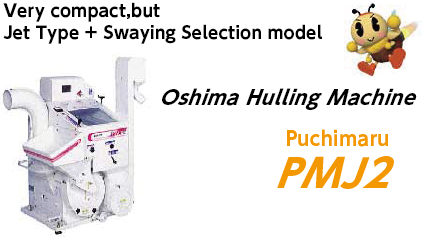 Compact but Jet System
■ Using Jet System which is not required adjustment
As rubber rolls are not used in Jet System, it is not necessary to adjust the roll interval like in conventional system.

■ Brown Rice is Really Pretty
As the jet system does not perform scraping by "rubbing" like a roll, finished brown rice is almost no damage, very glossy and clean.

■ Very Compact
This is very compact than the MR2α which is also the smallest one in MRαII series

■ Very suitable for storage
Because the jet system has little damage to brown rice, oxidation from the damaged part is suppressed and it is possible to suppress alteration during storage (storage time varies depending on the storage environment and the nature of the rice.)

■ It is not influenced by the state of the grain
Natural dry rice, organic rice, organic rice grains, high moisture rice are possible to wipe out the paddy which are difficult in roll type system. Even in this case, there is almost no grain damage.
* Although roll system tends to suddenly get worse the removal rate from around 16%, jet system type will perform without change.
Feature of Wipe Out
The jet system is gentle to wipe out without applying a rotational difference or pressure as in roll type. There is less skewness, brown rice has shiny and storage deterioration is reduced.
* All data are based on survey within our company.
Because it varies depending on the nature of the rice and work content and it is not a uniform one.
What is Jet System?
In the structure of the rice, brown rice is protected in coalesced two layer of rice husks.
1.Rice is popped out from the inside toward the outer circumference by the rotation of the pump.
2. The rice husk opens due to centrifugal force and frictional force.
3. When hitting the outer circumference of the rubber, brown rice jumps out from two layers of rice husks.
Although the small size, high selection system is implemented by using "Swing sorting method".
| | |
| --- | --- |
| In the swing sorting method, the state of selection is easy to understand at a glance and difficult technology is not required. Even the first-time user can also operate easily. | |
Easy Design for User
| | |
| --- | --- |
| | A complicated lever operation lever will be done by only one lever. Put the paddy in the hopper and just operate the lever, it will start "Wipe out / Sorting " easily. |
| | |
| --- | --- |
| Adjustment of paddy and finished rice can be done by just slide the knob. | |
■ Installed wind pick system to finished rice
By finished rice air-type equipment, rice bran is removed from the inside passages of machine to outside of the machine and the brown rice finished cleanly.

■ Remove foreign matter
Wood pieces, stones and straw are removed by one touch to the outside of the machine.
Always 100% functions by "Easy Maintenance"
| | |
| --- | --- |
| It is unaffected by the power situation with a single-phase power supply (750 W motor), and 100/200 V (single phase) specification can be selected. The cover can be easily detached and maintenance can be done easily. | |
| | In addition, the screw part inside the machine can also be processed the residual easily. |