BG60C Oshima Coarse Selection Machine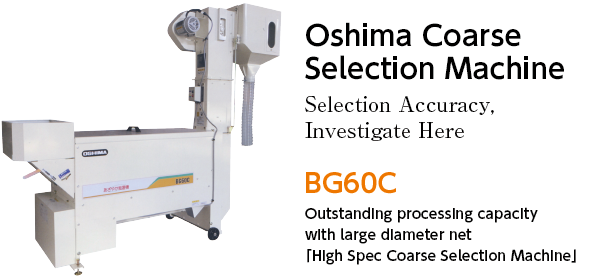 Sorting Ability
The large diameter selection net demonstrates its power to remove foreign matter and straw.
Two types of net of 2.7 mm · 3.0 mm are prepared. Furthermore, in accordance with the ability of the hulling machine, we adopted the "grain automatic supply method" that controls the amount of paddy input, and realized stable sorting.
Variety of layout properties
The discharge window of the paddy can be set to hulling machine of most manufacturers.
Furthermore, it is possible to set the foreign matter discharge window in two left and right directions according to the working environment.

Selectable foreign material discharge direction (photo is right discharge)
Enable versatile layout

Rice paddle outlet and dust suction kit (option)
Creating a comfortable working environment
Optional dust suction kit available.
Removal of dust in the tank and cleaning work is realized.
Oshima Coarse Selection Machine BG40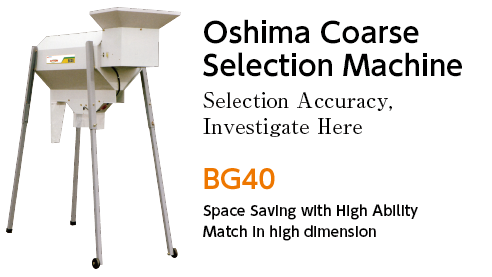 Selection Ability
Removal of foreign matter, straw with selection nets (2.8 · 3.0 · 3.2 mm) of 3 kinds which can choose.
In addition, since the amount of grain supply is adjusted by the paddy sensor and the solenoid, stable selection has been realized.
Variety of layout properties
| | |
| --- | --- |
| Space saving design to be installed on the hopper of the husky machine. Effective utilization of workplace is possible. | Space Saving Design |
Creating a comfortable working environment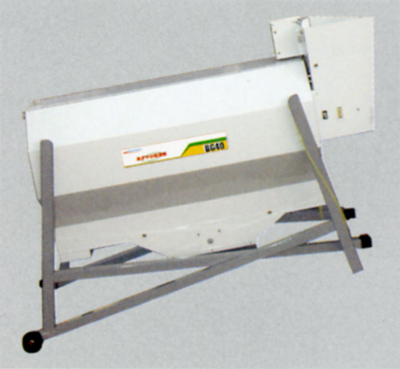 Just fold and store after work. Easy to move with casters. (Easy Moving)